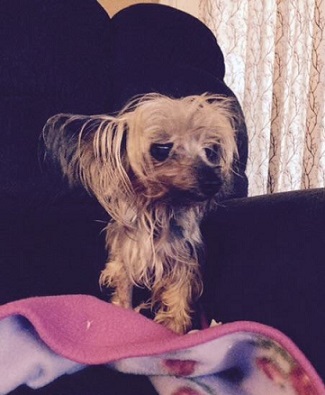 This is little Gracie. She came to us at Senior Paws Sanctuary in July 2015.
Gracie was so very tiny yet had very large mammary tumors. So large in fact that they hung from her belly. We feared the worst for this sweet little gal. We thought she might be too old, small and fragile to have the tumors surgically removed.
Gracie has turned out to be a little fighter though with a will to live.
After Gracie was settled into her foster home we had our vet, Dr. Ernie, examine her and he wanted to remove the tumors. The size of these tumors worried him for fear they could eventually burst. Gracie was prepped for surgery and had both mammary lines removed, some adjoining tissue and all mammary glands and nipples. She returned to her foster home weighing just 2.5 pounds and was very weak. She was unable to hold down any food or water and was rushed back to the vets office the following morning where she remained for seven days. Once stable she returned back to her foster home and has started on her path to recovery.
We were praying that the tests would come back benign on Gracie's tumors but results showed several of her tumors were cancerous.
Gracie is presently a sanctuary dog and our little Breast Cancer Warrior.
If you would like to help sponsor Gracie and her ongoing needs you can do so by clicking Sponsor A Dog and drag down to Gracie's name.
Our tiny little girl has a big spirit and we will continue to care for her and give her quality of life in her senior years.