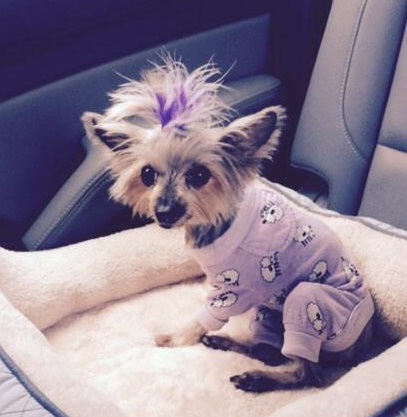 GRACIE
Isn't She Pretty In Pink? Our Breast Cancer Yorkie
Gracie arrived at Senior Paws Sanctuary, Inc. in July 2015.
She only weighed 3 lbs and had mammary tumors so large they hung from her belly. Originally we thought she was to small, old, and fragile to have the tumors removed and thought she may be a hospice resident to Senior Paws Sanctuary, Inc.
Once in foster care we had our vet Dr. Ernie look at her and he wanted to remove the tumors. The size worried him for fear they could eventually burst. Gracie was prepped for surgery and had both mammary lines removed, some adjoining tissue and all mammary glands and nipples. She returned back to her foster home weighing 2.5 lbs and very weak. She was unable to hold down any food or water and was rushed back to the vets office the following morning where she remained for seven days. Once stable she returned back to her foster home and has started on her path to recovery. We were praying for test to come back benign on Gracie's tumors, but results showed several of her tumors were cancerous.
We do not know what is in store for the future but we do know she is very loved and cared for. Senior Paws Sanctuary will take care of her needs as long as she needs us! We know more medical will be needed and if you would like to help us with Gracie's on going care you would be helping this sweet little girl greatly.