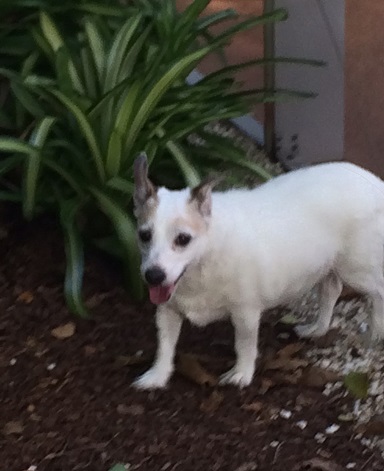 SCOUT
If only these sweet seniors could talk when they arrive safely to us after coming out of the shelter….
Scout is a Jack Russell Terrier. She is 12 years old and will be 13 in March. She is the newest rescue at Senior Paws Sanctuary.
We are finding out bits and pieces about Scout's story and her history. Here is what we know. Scout had a wonderful home for 12 years. We hear she may have belonged to her owner's mother at some point however has been a beloved pet of her owner, Britt, for many years. Britt named Scout after Gregory Peck's daughter in To Kill A Mockingbird according to one of the neighbors.
Scout was certainly her owner's pride and joy! She was loved and well cared for but that all changed when she lost the only human she knew and her home. Her owner passed away suddenly in his home and it was days…actually weeks…before Scout was discovered hungry, thirsty and not feeling her best we are sure.
Scout has a heart condition that requires her to have expensive daily medications. Three a day. During her time spent alone in her former home and time at the shelter she did not receive those medications. When Scout was discovered she was taken to an emergency clinic and then the local shelter in Fort Myers, Florida. She sat there over a week waiting for someone to take her home.
Senior Paws Sanctuary received many calls and contacts on Scout's behalf by friends and locals who knew or found out her story. It is heartwarming so many cared about her safety and well-being.
Senior Paws Sanctuary couldn't say NO.
With this outpouring of love and help of a couple people who wanted to give Scout a home, love and care for what time share had left we had to rescue her. Today Scout is in her new home. She needs to get back on track with her medications and vetting. Her foster family has offered to give Scout a home for the rest of her live…her forever…and for that we are all grateful.
Can you help us make sure that Scout never goes without her medications she needs or does without for the rest of her life? Please help us by sponsoring Scout.
MAKE A DONATION TO HELP SCOUT OR HELP MONTHLY BY CLICKING MAKE THE PAYMENT RECURRING